At Dolphin's Plus Bayside, marine conservation and stewardship are at the heart of our organization. As one of the earth's most valuable natural resources, the ocean is far more essential to the health of our planet than many people realize!
Research has revealed that the ocean plays a vital role in everything from preventing climate change to producing food for people all over the world. Here are some of the many reasons that ocean conservation is such an important issue for current and future generations:
The planet's oceans generate 50% of the oxygen we need to survive.
Seafood serves as the primary protein source for over half of the populations of many developing countries.
Over 3 billion people, or nearly half of the world's population, rely on the ocean for their livelihood.
The ocean plays an invaluable part in

reducing climate change

by absorbing 23% of the CO2 emissions produced by humans each year.
The ocean also serves as the world's largest ecosystem, providing a home for nearly a million known species.
The earth's oceans are a treasure trove of scientific discoveries, including the potential for innovative

new medicines

.
Yet, the Marine Conservation Institute estimates that only 3% of the earth's oceans are effectively protected. Unfortunately, our planet's oceans are now facing an unprecedented number of challenges, from ocean acidification and pollution to rising water temperatures.
Teachers all over the world enjoy a priceless opportunity to ensure a better future for our planet by inspiring the next generation of ocean ambassadors. Visiting a marine education center like Dolphins Plus Bayside offers students the opportunity to engage in experiential learning opportunities designed to inspire marine stewardship among the generations of tomorrow.
Whether at a government or local level, marine stewards of the future will find themselves at the forefront of tackling issues such as sustainability, climate change, and marine preservation. Let's explore how experiential learning works and why it offers a unique approach to marine mammal conservation education.
What is Experiential Learning?
Experiential learning is an educational style developed by psychologist and educational theorist David A. Kolb. Kolb's approach focuses on learning through experience using a four-part process:
Engaging in a direct experience such as a hands-on learning activity, internship, field trip, or other situation that offers a new learning opportunity.
Reflecting on the experience and the new ideas it inspired.
The resulting natural changes to the learner's previous way of thinking or worldview.
Experimenting with or acting on these new ideas and perceptions.
While it may sound a bit technical, the beauty of experiential learning is that it's so natural that many students don't even realize they're doing it! Experiential learning can be used in an endless variety of situations, including marine mammal conservation education.
For example, imagine that rather than showing your students pictures of marine mammals, you could give them the chance to actually swim and interact with dolphins in their natural habitat. A visit to a marine education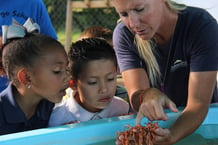 center can provide students with unforgettable experiences that will transform their views of marine conservation for a lifetime.
Through the use of hands-on activities, games, and interactions, experiential learning can help inspire a love of marine stewardship in students of all ages. Not only will students have a blast, but educators will enjoy learning valuable ways to make ocean and conservation literacy fun!
Experiential Learning at Dolphins Plus
Dolphins Plus Bayside is a leading conservation and marine education center located in Key Largo, FL. Our team of marine mammal specialists is dedicated to sharing our love of the ocean and all its inhabitants with guests from all over the world.
We offer once-in-a-lifetime educational field trips in Florida where students will learn about marine mammal anatomy, intelligence, behavior, conservation, and more! Our unique field trips are designed to inspire students through a series of experiential learning opportunities ranging from dolphin swims and marine invertebrate touch tanks to hands-on classes, labs, and other fun activities.
Best suited for students of ages 7 and up, we offer customized field trips and experiences that range from just a few hours to multi-day programs. Throughout your visit, you'll experience the magic of watching the ocean come alive for your students as they meet our dolphins in their natural habitats and get to know each of their unique personalities.
Students will also learn about the challenges facing our planet's oceans in an age-appropriate way and come away feeling empowered with their new knowledge of what they can do to promote change.
Don't hesitate to reach out to our education coordinator to discuss how we can help you offer your students one of the best educational field trips in Florida!
The Future of Experiential Learning in Marine Stewardship
Experiential learning is not only fun for students and teachers alike, but it has also been proven to be an incredibly successful approach to marine mammal conservation education. One study revealed that students who participated in a marine conservation experiential learning program were more likely to:
Approach science with a sense of identity and belonging
Go on to consider marine science an important part of their careers
Continue their education
Understand the unique threats that climate change poses to the environment
As the study concluded, "These results provide evidence that experiential learning has the potential to increase student engagement and understanding of climate change and ocean literacy communication, as well as a sense of belonging in science-oriented fields."
Even if a trip to Florida isn't feasible for your class, ask us about visiting Dolphins Plus virtually. We can bring our dolphins right into your classroom with one of our virtual field trips! Or check out a marine education center in your area. Organizations like California's Marine Mammal Center now offer both in-person opportunities for students and a vast collection of experiential learning resources for educators.
Take your students on a virtual field trip of Ke Kai Ola, a Hawaii-based hospital for Hawaiian monk seals. Or keep younger students engaged with a game of climate change bingo as they learn about ways to reduce their carbon footprint from Dr. Whizzlepuff in a free animated short film.
Whether it be through classroom-based experiential learning activities or live educational field trips in Florida, teachers everywhere are beginning to realize how far a little creativity can go in promoting marine stewardship and conservation. We encourage educators to check out more free resources from organizations such as:
Host Your School Group with Dolphins Plus!
Experiential learning offers a science-backed way for educators to promote marine stewardship and conservation among students of all ages. Dolphins Plus Bayside would be thrilled to host your class at our beautiful marine conservation center in sunny Key Largo, FL!