Swimming with dolphins is a once-in-a-lifetime experience. It's a big deal, so no wonder, people have lots of questions about it. Some of these questions, may have held you back from taking the plunge and swimming with these majestic creatures. We'd like to answer those questions, so you don't miss your chance to swim with dolphins.
Some of the most frequently asked questions regarding swimming with dolphins include:
What is it like to swim with dolphins?
What should I expect from your swimming programs?
How long is your program, and how long will I be in the water?
Let's dive into the experience and find out all about it.

Who's having more fun during this Structured Swim, the boys or the dolphins?!
Swimming with dolphins is a one-of-a-kind experience! Sharing space with these magnificent creatures can be quite exhilarating, to say the least. When swimming with dolphins at Dolphins Plus you may experience holding on to their dorsal fin while they pull you through the water; floating on your back while they push you by your feet; and give rubs, kisses, and handshakes.
All swim programs and interactions at Dolphins Plus are fun and immersive educational experiences. First, guests participate in an educational segment in which they learn about dolphin physiology and behavior. Additionally, guests learn about marine ecology and things that you can do in your own lives to help protect this fragile ecosystem.
Following the educational segment of the program, guests are introduced to the dolphins and enjoy the swim program they registered for. Interactions with the dolphins are untimed and are based on a series of behaviors. Everyone will have the opportunity to participate in the same number of interactive behaviors with the dolphins.
You can expect to be at our facility for about 1.5 hours from arrival to departure. This includes education, getting you ready, the encounter itself (which is not timed), and checking out through our photo department and gift shop. The in-water portion of our encounters is not based on time in-water, but on each set of participants getting to do the same number of interactive behaviors as everyone else (according to the program).
It is a privilege to share everyday life with the dolphins in our family, but with privilege comes a great responsibility to learn as much as possible about marine mammals and their environment. With the knowledge we obtain, we can better manage and conserve both managed care dolphins and wild population dolphins. That is why, here at Dolphins Plus, we share our knowledge about dolphins and other marine mammals with our guests.
As mentioned, prior to all swims or dolphin interactions, guests participate in an educational briefing. During the briefing, one of our highly trained dolphin experts discusses topics such as dolphin anatomy, social behavior, reproductive biology, echolocation, dolphin/human interaction, and conservation. The session concludes with information on what to expect during the swim, including what can and cannot be done during swims.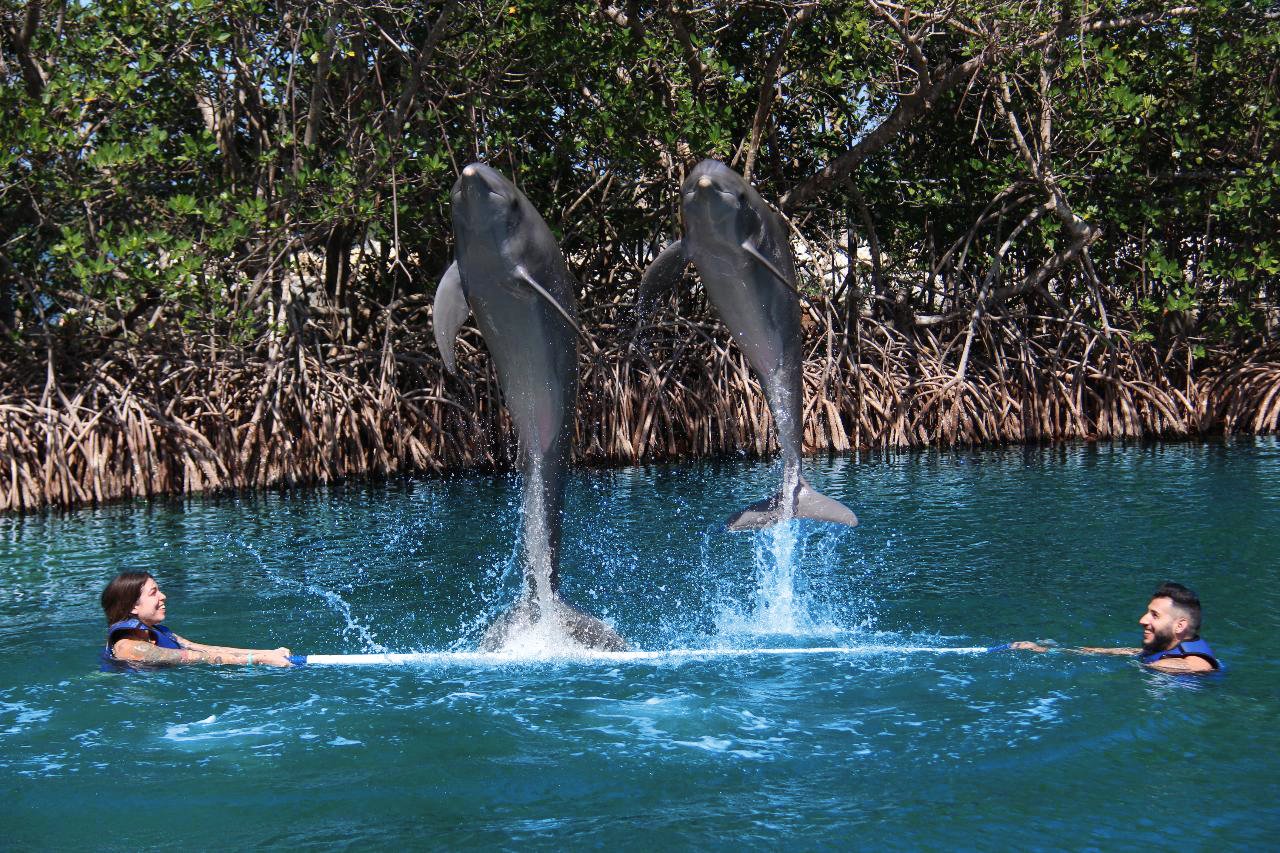 Our Structured Swim makes you feel like a true dolphin trainer. Just look at these two dolphins and their gorgeous high jump!
One of the most important segments of the educational briefing, without a doubt, is the segment regarding conservation. This part of the briefing highlights challenges faced by marine life and its inhabitants. Sadly, one characteristic that all marine mammals share is that most are, or have been, exploited by humans. Some marine mammals are considered endangered species, while some have even been driven to extinction. There are other major threats to marine mammals, such as entanglement in fishing gear and nets. When this occurs, it is considered "bycatch" – as the marine mammal species were accidentally caught.
Another major offender to the well being of marine mammals is marine pollution. As humans, we can't typically see these toxins, but chemicals such as pesticides, heavy metals, organochlorides, and PCBs end up in our oceans, in turn causing serious health issues in marine life. These toxins increase mortality rate, cause sterility, birth defects, cancers, neurological dysfunction and more. Additionally, there are types of marine pollution that we can see, such as oil and waste.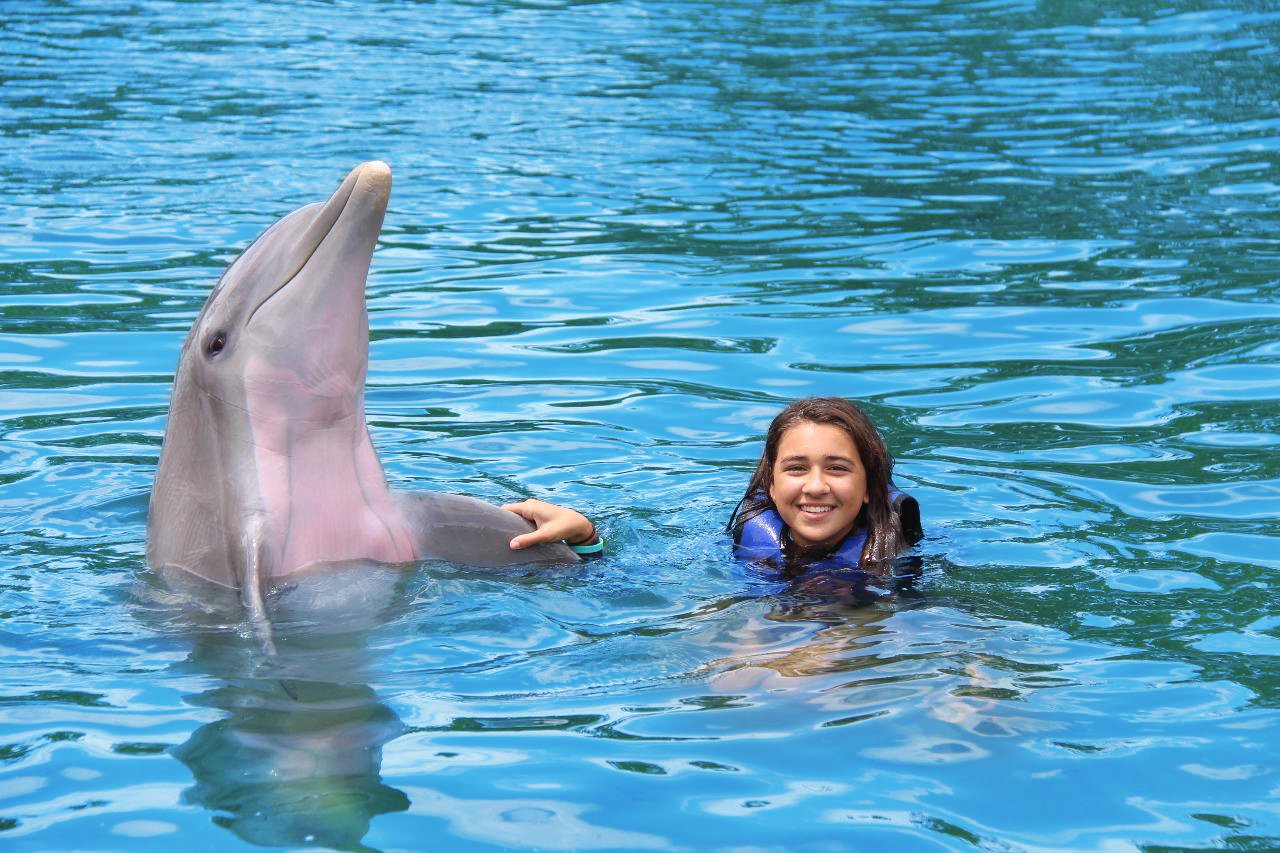 Strike a pose with you favorite dolphin during our Structured Swim.
We know that this part of the briefing can be tough, but if we don't share the negative aspects, we can never fully create and embrace the positive. Knowledge is power, and we can use that to help dolphins and marine mammals around the globe. At Dolphins Plus, we see the importance of conservation efforts and educating our guests, so that they too can spread the word about conservation. Without conservation efforts, hundreds, if not thousands, more marine mammals would perish every year. That is why we have to do what we can in our part of the world to save one life at a time. Some great ways to participate in conservation include discontinuing the use of plastic straws, clipping the rings on soda 6-packs, and keeping debris out of storm drains.
Click here for more frequently asked questions regarding our facility and programs.